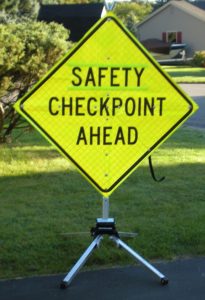 The Chesapeake Police Department and North Carolina law enforcement have joined forces to start the Labor Day holiday with a traffic safety checkpoint at border areas on Thursday, Sept. 1 from 9 a.m. to noon.
"Labor Day is the last big travel holiday of the summer," said Chesapeake Police Department's PIO assistant Sgt. Ravi Sheth in a press release. "Speeding, not buckling up and drunk driving make Labor Day one of the deadliest long weekends in the United States," he said.
This is the 19th consecutive year the Virginia and North Carolina law enforcement groups have worked together to let citizens know they will be on the roads all over the region throughout the long weekend.
The simultaneous safety checkpoints will stop drivers to ensure they are sober and following all traffic safety laws, with passengers properly restrained. There will also be motor carrier enforcement on the border to make sure all trucks are meeting all traffic and safety regulations.