This information is presented as the best of our knowledge and is subject to change (and/or) error. Revisions are welcome. 
The South Norfolk Fourth of July Parade and Picnic in the Park is presented by Chesapeake Regional Healthcare and hosted and produced by the South Norfolk Civic League and the City of Chesapeake's Department of Parks, Recreation and Tourism.
HistoricSouthNorfolk.com and SouthNorfolkBusinessDirectory.com are sponsors (and some would say, conspirators) in the event.
For 2019 information, visit the South Norfolk Civic League's Website.
This year, 2019, the South Norfolk's Fourth of July Celebration will be held Thursday, July 4th.
The parade starts at 10 a.m. Please park by 9 a.m. The celebration in the park will begin immediately following the parade and continue until 3 p.m.
---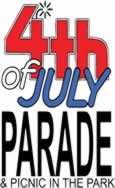 South Norfolk's annual Fourth of July Parade & Picnic in the Park
The Fourth of July celebration is held every July 4th (except when it falls on a Sunday) at Lakeside Park, 1441 Bainbridge Blvd., Chesapeake, VA 23324 in the borough of South Norfolk, in the good old U.S. of A.
This event is free, family friendly and open to the public. Some activities require a small fee ($1-2). Proceeds benefit scholarships, community organizations and civic projects in South Norfolk.
It is presented this year by Chesapeake Regional Healthcare and jointly produced by the South Norfolk Civic League and the City of Chesapeake Department of Parks, Recreation and Tourism. When the 4th of July occurs on a Sunday, the parade and picnic are held July 3rd.
---
Home Decorating Contest
Open to South Norfolk Residents on the parade route and within the historic district. Four prizes will be awarded to decorated homes along the parade route and within the historic district. Organizers urge patriotic residents to decorate their homes by 3 p.m. on the day before the parade for judging.
In addition to gift baskets, this year's winners will receive an 11×18-inch red, white, and blue garden flag to commemorate their awards.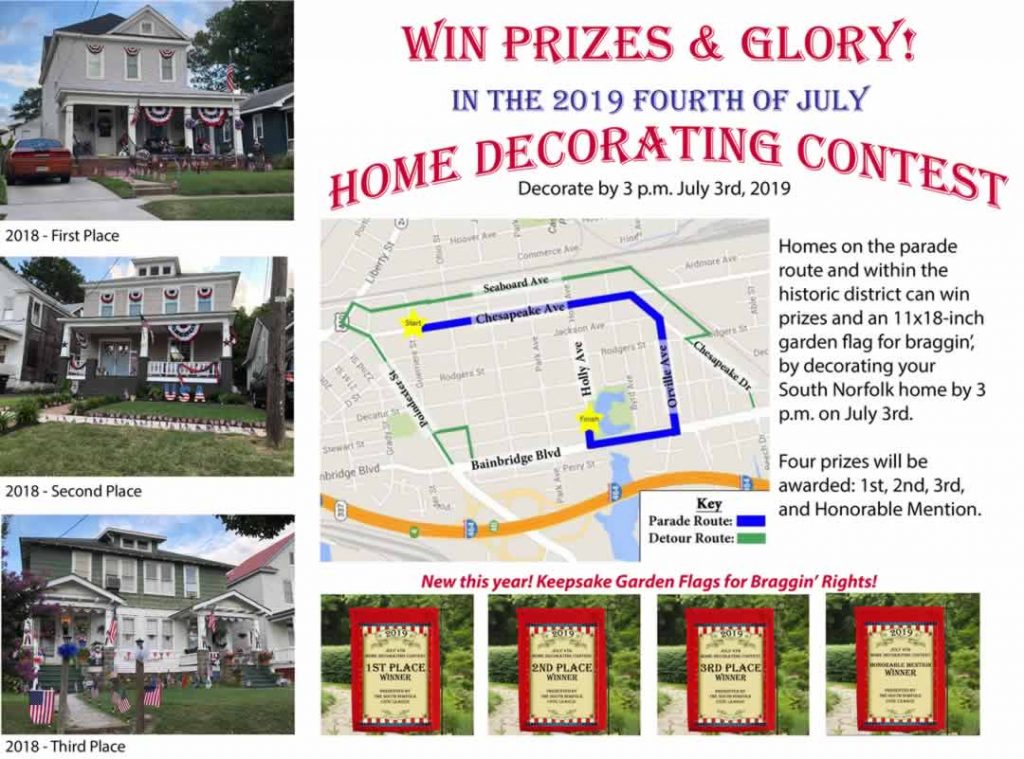 Below is a map of the parade route, shown below in BLUE. GREEN marks the streets that remain open to traffic during the parade.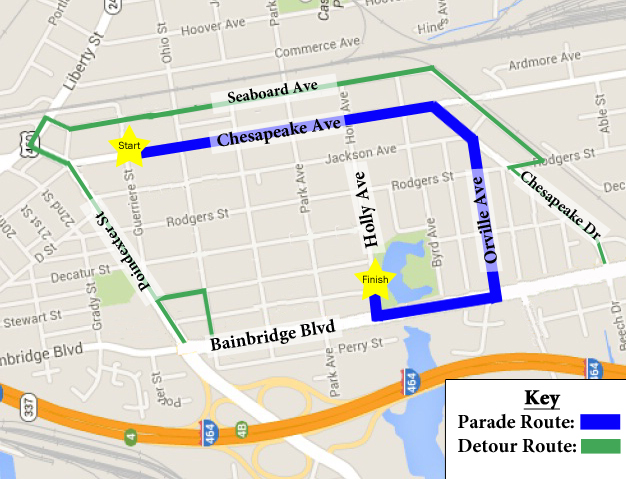 The PARADE is 10-11 a.m., July 4th unless July 4 is a Sunday, in which case the event will be held on July 3.
Parade route
The parade route runs from the South Norfolk Baptist Church, 1101 Chesapeake Ave., continues south (right) on Chesapeake Blvd., west (right) on Orville Ave., north (right) on Bainbridge Blvd., continuing to Holly Ave., ending near the entrance to Lakeside Park. It will end at approximately 11 a.m. and the Picnic in the Park will begin at that time, ending at 3 p.m.
---
Parade participants
The 2019 parade is directed by Beth Roland. It is free to apply and participate in the parade, which features 75-100 units.
Parade staging begins at 8 a.m. near the parade starting point at the South Norfolk Baptist Church, 1101 Chesapeake Ave.
There are typically four staging areas. Parade participants will receive instructions on where to line up for the parade when applications have been received. Parade participants may not throw anything from floats, but they can walk along the side of the float and hand things out to the public.
---
Parade attendees
The parade begins at 10 a.m. Arrive and park early for better parking and parade-watching spots. Some streets are closed for the parade, so if you are not parked and in place by 9 a.m., you may not find a spot. Bring chairs, umbrellas, and drinking water. Please be courteous of the residents along the parade and detour routes. Please do not litter in our beautiful historic community.
---
The PICNIC in the PARK, after the parade to 3 p.m.
Music & Entertainment
Immediately following the parade, thousands of folks will pour into Lakeside Park for food, drinks, live music, entertainment, crafts, contests, prizes and children's activities.
For 2019, the featured musical artist will be the Tidewater Drive Band.
Food & Drink
Food & beverage vendors will offer a selection of goodies for sale including chicken, burgers, hotdogs, flavored ice drinks, and much more! If you would rather bring your own food, that is permitted, however alcohol is not allowed in the park.
Arts & Crafts and more
Arts & Crafts vendors will be there, as will community and business exhibitors.
Prizes
There will be a 50-50 drawing and TWO bike giveaways, too.
Activities
This is a partial list of activities scheduled for this year:
Kindness Rocks with Cindy Kipper of South Norfolk Rocks
50-50 raffle
raffles for bikes (2)
Petting Zoo
Ident-a-Kid
Face Painting
Paddle boats
Magician
45-foot replica of the USS Alabama
Oscar Smith High School Football team
Youth Virginia Regiment, Revolutionary War reenactors' camp, near Vet's memorial at north end of park off Holly.
For the latest information, please visit the South Norfolk Civic League's website.