By Suzy Loonam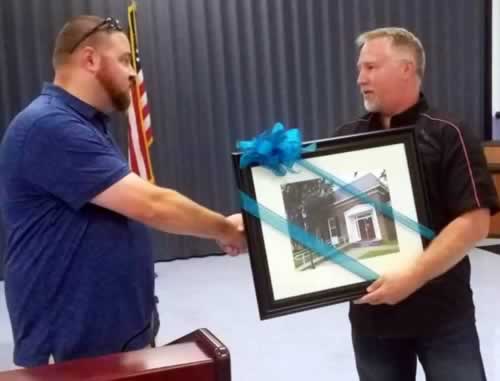 SEPT. 9. 2019: South Norfolk, Virginia — The South Norfolk Civic League changed the order of business last night so civic league presidents from South Norfolk, South Side, West Munden and Sunrise Hills could thank Capt. Jim Dunlap, Chesapeake Police Dept. Second Precinct, for his 9-year service to the community.

The presidents each presented Dunlap with hugs, parting gifts and best wishes for a happy retirement.

Dunlap, who retired Sept. 1, said "My relationships in the community have been personal. Now you are all my friends. Thank you for my time here. I appreciate everything you have done. I will miss you all."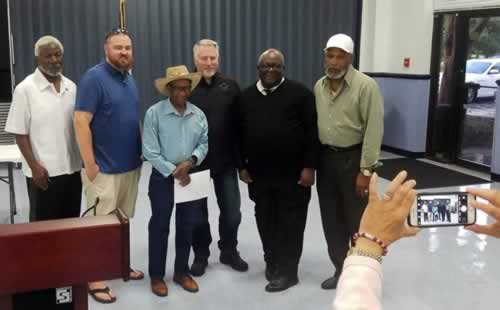 Dunlap is credited with reducing crime in the Second Precinct by nearly 30 percent during his time in South Norfolk.
Carolenn Lathem, president of the South Norfolk Neighborhood Watch said, "It's been an absolute pleasure working along with you."
Dunlap said Capt. John Landfair is slated to become the new captain of CPD's Second Precinct. "John is smart, dedicated, and down to earth. He will do well here," Dunlap said.
According to LinkedIn, Landfair is a 22-year police veteran, with a broad base of training and experience, including working as a patrol officer, detective, and commanding officer of CPD's Special Operations Section. He is an FBI National Academy graduate and an adjunct faculty member with ECPI University teaching undergraduate level coursework in Criminal Justice topics.
After the membership meeting and the farewell presentations for Dunlap, members and guests mingled over cake, ice-cream and drinks while saying their last goodbyes to the captain.

Farewell, Capt. Dunlap! Thanks for your service to South Norfolk.
---
SNCL Meeting business
Prior to the farewell celebration for Capt. Dunlap, SNCL President Buma quickly summarized these items and tabled discussion for another time:
Overton Property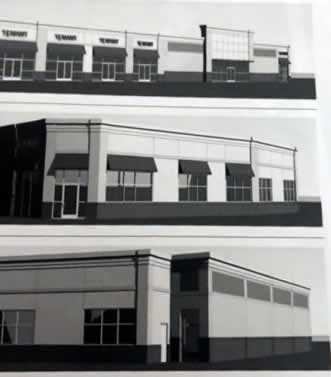 Owners of the parcel of land bordered by Liberty Street, Poindexter Street, B Street and 22nd Street presented site plans last month, however, planners and local leaders requested some changes to make the new construction fit better with South Norfolk's Historic architecture.

The revised drawings show an angled door at the corner of Poindexter and B Street (as the storefront there had been in the past), with additional windows on all sides of the new "town center plaza," which will house a Family Dollar and three other retails stores that have not yet been determined.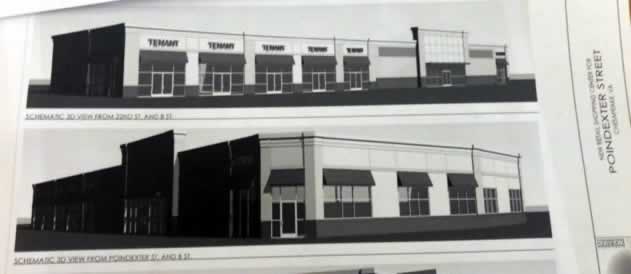 The new site plan is on the Planning Commission's agenda for tonight and planning staff has recommended the item for approval.
RELATED: 'Town Village' concept may be new reality for downtown South Norfolk (See this article for original site elevation drawings).
---
ForKids Ground-Breaking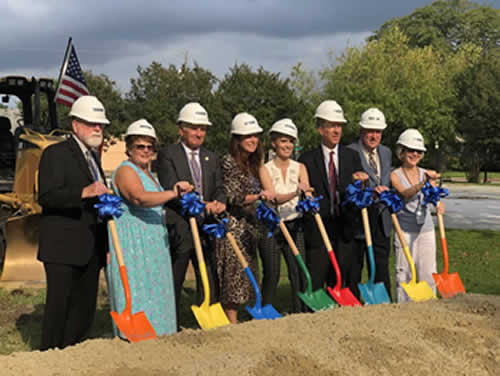 ForKids, the Commonwealth of Virginia's largest provider of services to homeless children and families, broke ground on their $22-million headquarters on Sunday. The non-profit's new home, three stories tall in some parts, will be located on the grounds of the former South Norfolk Memorial Library at 1001 Poindexter St., in downtown South Norfolk.

Although, Buma said, there are still some minor permitting issues, construction should begin soon, with the foundation likely to be in place before winter.
---
Lake Update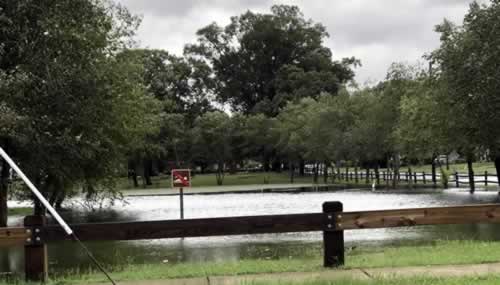 Everyone agrees the algae bloom at the lake at South Norfolk's Lakeside Park is unsightly. Everything else seems to be up for debate.
Residents have argued the lake issues extensively in social media. Some disbelieve the experts' claims on residential runoff as a contributor. They deny the city's claim that the fountain is decorative, insisting the fountain is the key to solving the algae crisis.
In a recent article by this website, HistoricSouthNorfolk.com, the city blamed the situation, in part, on residential runoff, along with other environmental and physical conditions.
Many in the community were offended by the accusation and clapped back, blaming the city for the lake's condition, which they feel is caused by the city's neglect of the lake's maintenance.

After going back and forth with city officials, Tim Buma, South Norfolk Civic League president said "We should be getting answers soon."
The fountain has not run regularly since June. Residents reported that the fountain worked for a time on Monday, but city workers were unable to keep it running for any length of time.
RELATED: What's wrong with our lake?
---
Food Trucks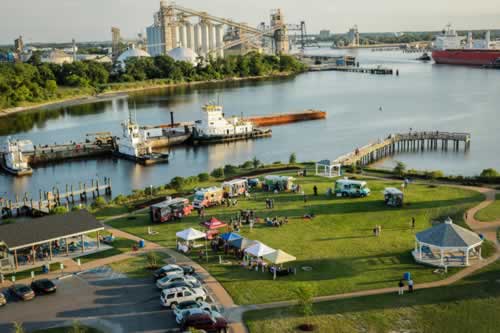 There are two Food Truck Events left for the season, Sept. 12 and Sept. 26, from 5 to 7 p.m. If you havent been, you should go see what you've been missing all this time! The weather is PERFECT!
---
22nd Street Bridge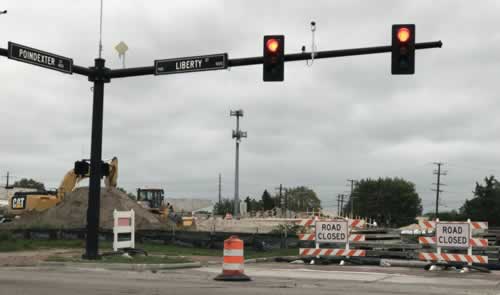 Progress continues on the 22nd Street Bridge, with the approach to the bridge now visable from Poindexter and Liberty. The project is still on track for completion in May 2020.
---
Sono Pharmacy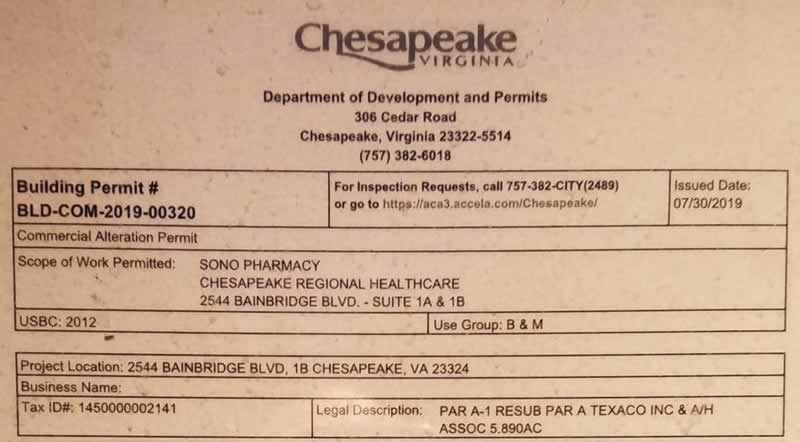 Construction on the location of South Norfolk's new pharmacy, owned by Chesapeake Regional Healthcare, continues in the Bainbridge Marketplace Plaza at 2544 Bainbridge Blvd., Suites 1A and 1B (the southernmost units, south of Food Lion in the same building).
---
Volunteers sought for First Responders' Appreciation Day, Oct. 5
Latham announced that the Fourth Annual First Responders' Appreciation Day will be held Oct. 5, this year, in the lot across from the Second Precinct.

She asked for volunteers who want to help thank first responders to report to the site for assignments at 8 a.m.
---
Next SNCL meeting
The next South Norfolk Civic League will be at 7 p.m. Oct. 21 (not the 14th, due to Columbus Day) at the community center. Everyone is welcome and encouraged to attend, but only members may vote in league matters.
The SNCL meets most months on the second Monday at 7 p.m. at the South Norfolk Community Center, 1217 Godwin Ave. in Portlock. Memberships are $5 per year for individuals and $10 per year for families. Email SouthNorfolkCivicLeague@gmail.com for more information.
---
Follow us on Facebook!
You will find more information and more pictures on our Facebook page. Be sure to follow us so you don't miss anything.
Join the 4.1k other people who follow us on
https://facebook.com/historicsouthnorfolk