UPDATE: Appearance before council has been postponed!
New date to be announced…
In private groups on Facebook, South Norfolkians debate whether it was gunfire or fireworks they just heard outside.
About a mile north of the Gateway and the South Norfolk Memorial Library, three men were ambushed as they sat in a car, barely surviving 30 shots from unknown assailants.
While weeding her garden, a young South Norfolk housewife and mother of two wears a sidearm strapped to her hip, just in case she, a neighbor or a passerby should have cause to fear for their safety.
Despite claims from law enforcement that crime rates are declining, South Norfolk residents have had enough. Now they want others to join them as they appear before the Chesapeake City Council at 6:30 p.m. July 19 at city hall, 306 Cedar Rd., to ask council to approve the move of Chesapeake Police Department's Second Precinct to Poindexter Street to bring a greater police presence to South Norfolk.
Attendance at South Norfolk Neighborhood Watch meetings is up, according to Kenny Martin, SNNW president, but not because people are afraid. "More people are taking a stance against crime," Martin said. "If they don't, nothing will change."
Now, key to SNNW's new stance against crime is the relocation of the Second Precinct from 1209 20th St. to the vacant former library building at 1100 Poindexter St., central to South Norfolk's revitalized corridor on Poindexter Street. Martin said SNNW members voted to ask city council for the move, and "at that point, the board began taking actions."
Many residents believe the move, which is also supported by the South Norfolk Civic League, will help curtail crime, restore public confidence in safety, and enhance economic development in the struggling historic community and surrounding areas.
Hundreds have signed the online petition at change.org to support the move, and many others have signed the paper version of the petition. Organizers currently have about 500 signatures, total, and are hoping to get at least five city council members to vote to move the precinct or at least explore the possibility.
"With the station being visible, hopefully it will deter crime," said Vicki Josue, a South Norfolk Civic League member and secretary of SNNW. Josue's husband, Joe Josue, owner of Southside Florist, 1113 Poindexter St., also supports the move.
Jessica Conn, General Manager at SoNo Auto Sales, 900 Poindexter St., is excited about the possibility. "That would be great! We would be definitely looking forward to having the police closer," she said.
Caroline Taylor, president of Taylor Made Diagnostics, 801 Poindexter St. (in the Gateway building) agreed. "It would be nice to have police presence there," she said.
An unidentified female worker at the South Norfolk Memorial Library and another female worker from the same building at 801 Poindexter St., said it would make them feel safer to have the Second Precinct closer to their jobs.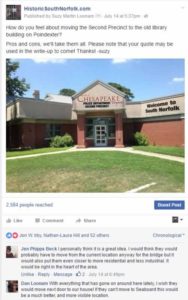 On this web site's Facebook page, support for the move was strong. "I think it would be a wonderful idea… it would mean another abandoned building would be useful rather than build another new building costing the city more money… CPD being out there in front for all to see would let people know that you are out there and are keeping SONO safe," wrote Brenda Mallard Surface.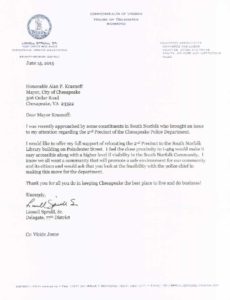 Lionell Spruill, Sr., Virginia Delegate to the 77th District, also sent a letter to Chesapeake Mayor Alan Krasnoff in support of the move.
Several Facebook users had questions about the cost of renovating the old library, and one was concerned for police safety. Only one poster said the precinct should stay where it is, due to the high crime in that area.
If you, too, have had enough of crime in South Norfolk and want to make a change; if you agree that moving the Chesapeake Police Department's Second Precinct could be beneficial in deterring crime, organizers urge you to attend the city council meeting tomorrow.
If you are unable to attend, organizers ask that you please write city council and tell them of your support. CLICK HERE to email the entire city council at once. To sign the online petition, CLICK HERE.
For more information or if you need transportation to attend, contact Kenny Martin at kmartin@sonowatch.org or Vicki Josue at vickicjosue@gmail.com.