CORRECTION: Ribbon-cutting is Thursday. Pharmacy opens Monday, Jan. 20.
Jan. 16 is a big day in South Norfolk, civic league officials announced at the monthly meeting Monday night.
Chesapeake Pharmacy returns to South Norfolk
At long last, South Norfolk will regain its "Chesapeake Pharmacy" when Chesapeake Regional Medical Center cuts the ribbon on a new drug store of the same name with a ribbon-cutting at the Bainbridge Marketplace, 2544 Bainbridge Blvd., on Thursday, Jan. 16 at 10:30 a.m. Food will be provided by Southside BBQ & Catering.
A larger grand opening is planned for the community a little later, according to SNCL officials.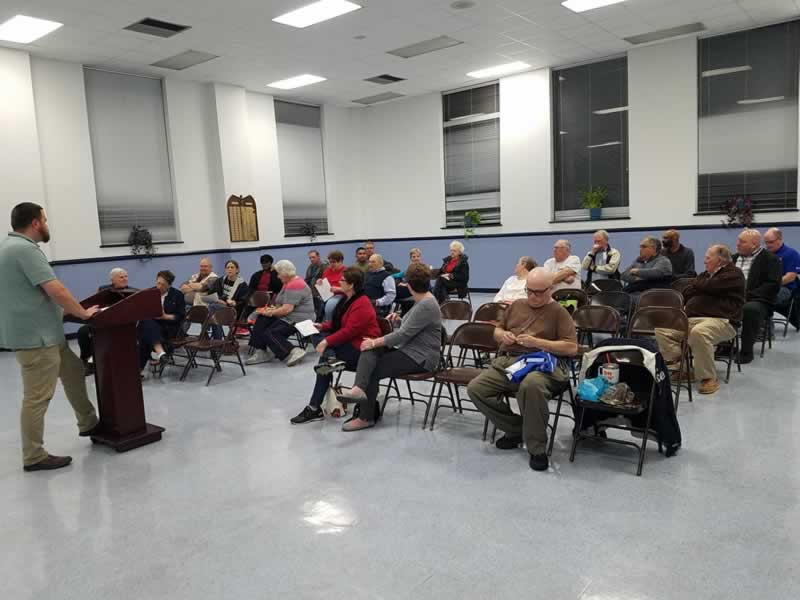 Local projects continue
Other local development and street projects continue as planned, said SNCL President Tim Buma, with the Poindexter bridge project on schedule for a May 2020 completion and development progressing as expected at the ForKids property and the city's new parking facility near the Gateway Building.
Gonzales introduced as new watch president
Carolenn Lathem, past president of the South Norfolk Neighborhood Watch, introduced Greg Gonzales, the new watch president. "He's going to put new life into the watch," Lathem said. Gonzales said meetings will be held quarterly, at 6 p.m., in advance of SNCL meetings at the South Norfolk Community Center, 1217 Godwin Ave. in Portlock. The next meeting of the watch will be in April.
Officer Mathews reports
Officer J.T. Mathews, Senior Police Officer with the Chesapeake Police Department said there is an urgent alert to adults dropping children off at day-care: DO NOT LEAVE VALUABLES IN YOUR CARS WHEN DROPPING OFF CHILDREN! Thieves have been seizing opportunities to pilfer cars in day-care parking lots.
Collected speeding data nets surprising results
Mathews also shared results of the traffic speed data studies he's been conducting with portable speed signs in the area. He explained that he ran the data-collecting signs in two modes: one that shows speed and one that does not.
Rodgers St. in front of OSMS for 12 days: Avg speed 22mph/ Speed Limit 25mph
Portlock Rd. for 8 days: Avg speed 28 mph/ Speed Limit 35mph
300 block of D St. for 11 days: Avg speed 18 mph/ speed limit 25mph (Generated from a complaint received by 382-CITY)
Rosemont Ave. near Hill St. for 8 days: Avg speed 25 mph/ Speed Limit 25 mph. This is being actively enforced at this time.
3600 Blk Bainbridge Blvd. for 8 days with speeds being displayed on the sign Avg speed 30 mph/ Speed Limit 35 mph
3600 Blk of Bainbridge Blvd for 12 days with speeds NOT being displayed (Blind testing) Avg speed 31 mph/ Speed limit 35 mph.
Mathews mentioned that Amazon trucks may be affecting traffic speed data negatively. However, aside from that, speeding does not appear to be a significant issue in South Norfolk and Portlock.
Keeping semis off Portlock
Advance warning signs to let tractor-trailers know they cannot turn on Portlock have been ordered, and there are currently counters in place recording tractor traffic on that road.
Ride along with a cop!
Do you know what cops do all day? Chesapeake Citizens Police Academy participants find out through a variety of experiences, including a trip to circuit court, a jail visit, up to three ride-alongs, a chance to ride with a K-9 team, and a sit-along with 911.
The academy is open to all, 18 years and older. There are no physical requirements, no tests and no fees.
For more information, contact Pete Rohrmayer, program coordinator, at 757 285-3108 or visit the academy page on the city's website. The deadline to apply for the Spring session is March 16. South Norfolkians are highly encouraged to participate to bring up their fourth-lowest participation rates in the city.
You do not have to attend the academy to get a ride-along, Mathews said. Any resident may request a full-shift ride-along with a Chesapeake police officer every six months.
Healthy Chesapeake in South Norfolk
Calib Miller, Food Connection Program Manager with Healthy Chesapeake and new neighbor in South Norfolk, introduced himself and described how his small staff works with 40 charitable and faith-based agencies to help fight food insecurities, improve and expand access to healthy foods and food connections, and direct interventions to address core issues of food poverty, such as a need for refrigeration in some homes.

Healthy Chesapeake is working to enhance local food distribution and plans to open a "food pharmacy" at 1016 Seaboard Ave. at the site of the old noodle factory. The food pharmacy is part of the organization's "Food is Medicine Program."
For more information about Healthy Chesapeake's programs or to volunteer, contact Miller at 757-831-3216 or email calib.miller@healthychesapeake.org.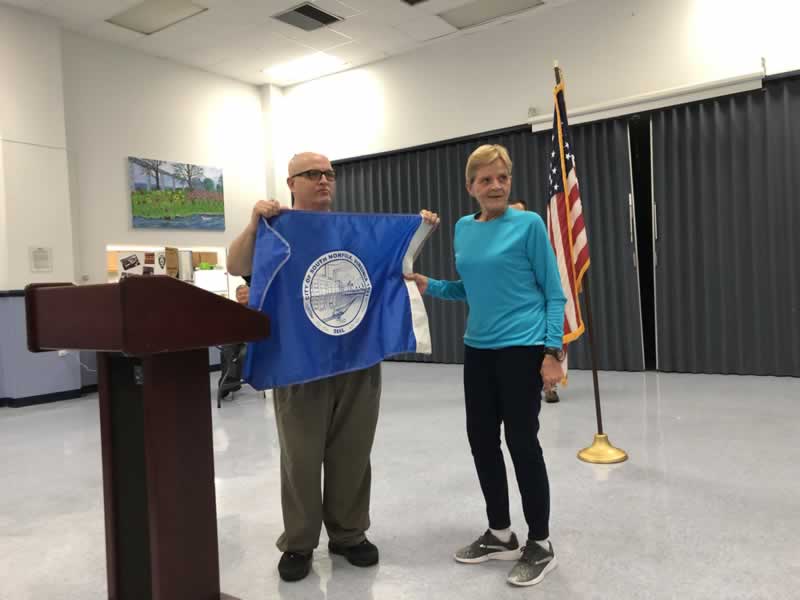 LaGreca presents SN flag as token of thanks
Robert LaGreca, a 20-year resident of South Norfolk, presented a City of South Norfolk flag to Carolenn Latham, on the occasion of his retirement to Tennessee, to thank her for all she did for him in his years in the community.
Upcoming library activities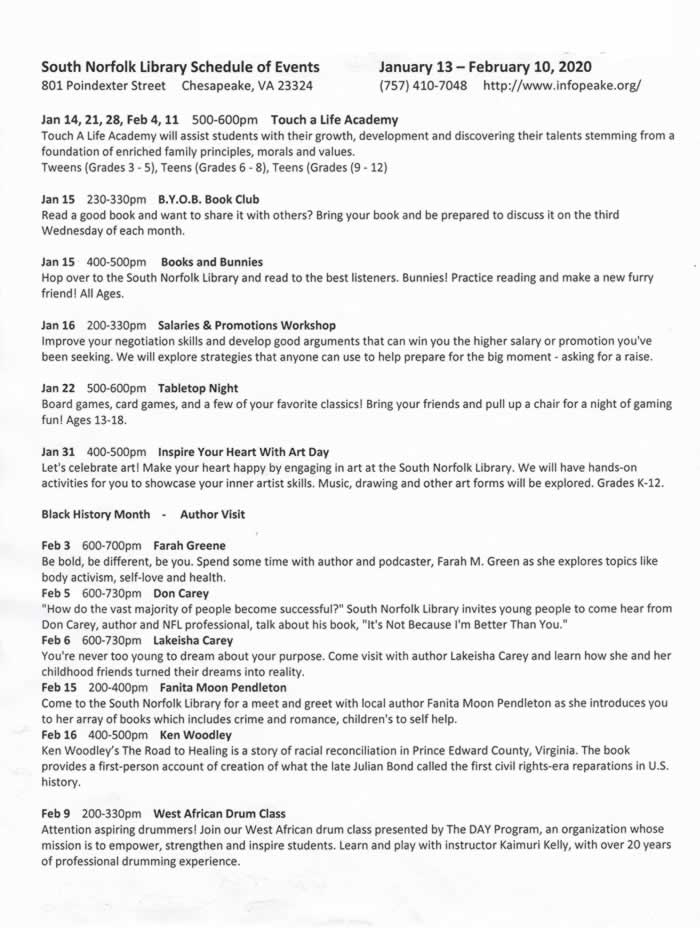 Facilities Master Plan – Community Dialogue Meetings
Buma reminded the group that the City of Chesapeake and Chesapeake Public Schools are seeking public input on a long-term Facilities Master Plan (FMP) to identify and prioritize the current and future needs of our public school facilities.
Citizens will have opportunities to offer comments at the community dialogue meetings. The first of the Community Dialogue meetings were held in November 2019.
The second of the Community Dialogue meetings will be held 6-8 p.m. Wednesday, March 11, 2020, at Deep Creek High School located at 2900 Margaret Booker Dr., and 6-8 p.m. Thursday, March 12, 2020, at Oscar Smith High School located at 1994 Tiger Dr.
With that reminder, the meeting of about 35 people was adjourned. The next meeting of the SNCL will be Feb. 10 at 7 p.m. at the South Norfolk Community Center, 1217 Godwin Ave.