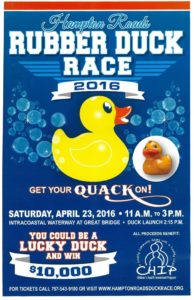 Who will win $10,000 April 23?
Some lucky duck will win $10,000 with the winning duck at the 10th Annual Hampton Roads Rubber Duck Race, 11 a.m. – 3 p.m. April 23rd at the Intracoastal Waterway at Great Bridge.
There will be family-friendly activities, food, beverages, and fun for everyone. Everyone is invited to bring the family out to meet CHIPper for photo opportunities and participate in this grand event to benefit children in Hampton Roads.
For tickets, call 543-9100 or visit HamptonRoadsDuckRace.org for more information on sales locations and ticket pricing.