SOUTH NORFOLK, Va. — City officials officially cut the ribbon to open the new Poindexter Street Bridge, about two years after the former overpass on 22nd Street was unexpectedly closed to due to unsafe structural issues.
---
Earl Sorey, Director of Public Works, opened the ceremony with congratulations and thanks to the project team, including the project manager, Scott Frechem, the inspectors, the consultant firms of Clark Nexsen and RK & K, and the construction contractor Corman Kokosing Construction. Sorey then introduced Mayor Rick West.
"It's amazing to see a critically important transportation project reach the finish line in this great community," West said. The new bridge helps tie together Chesapeake with our neighbors in Norfolk, and will deliver more than 7,000 vehicles each day, back and forth along Poindexter St."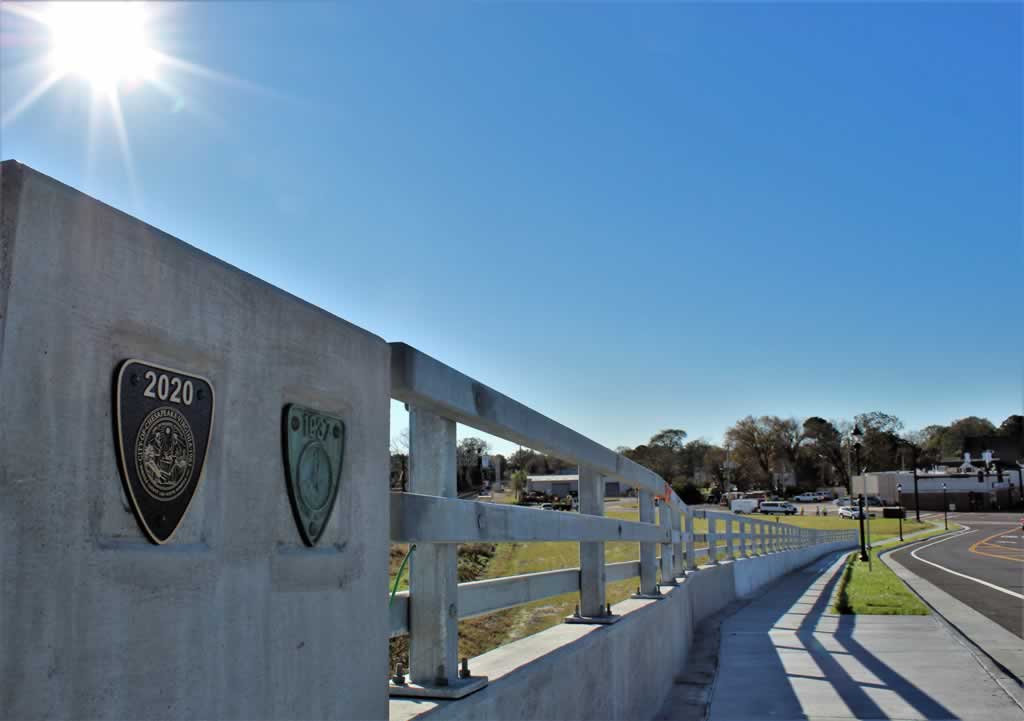 ---
Looking forward to long and successful service
He said the previous bridge, which ran along nearby 22nd Street, had served South Norfolk for 80 years. "And we look forward to a similarly long and successful period of service for this new bridge."
"We appreciate the patience and support of our South Norfolk community while we undertook the replacement of this vital crossing. We know the traffic inconvenience it caused, and are pleased to see the new bridge open to traffic, because South Norfolk is open for business and we're committed to contributing to that success."

-Mayor Rick West
The mayor said the opening of the bridge reestablishes a vital transportation link, not only for the residents of South Norfolk needing a reliable means to cross the rail lines, but for commuters and passers-through from our neighbors in Portsmouth and Norfolk.
Realignment creates convenient passage
"Re-aligning the crossing along Poindexter St. creates a convenient passage from Portsmouth via the South Norfolk Jordan Bridge, " he said, "through the heart of Historic South Norfolk, and across this new bridge into the Berkley community en route to downtown Norfolk."
"With so many exciting developments in this community, not the least of which is the forthcoming ForKids facility right down the street, and with such passion and enthusiasm to preserve and enrich this historically significant neighborhood, this new bridge is the just the latest upgrade to this important square in the fabric our Chesapeake municipal quilt."
Southgate Overpass replacement planned
"We're hopeful that the good news for improving South Norfolk's infrastructure doesn't stop here, as we are looking forward to a potential award of state funding to replace the Southgate Overpass on Bainbridge Blvd., and hope to get that good news in December."

-Mayor West
Thanks Department of Public Works!
West thanked the Department of Public Works team for overseeing and steering this project across the finish line.
"Even as we continue to work to overcome the impacts of the COVID-19 pandemic," he said, "our staff recognizes the importance of continuing to deliver infrastructure improvements to our community, as they rely on us to help them safely get where they're going and back again."
In closing, West said, "Again, thanks for everyone for joining us here today to celebrate the completion of this important project. We urge everyone to continue taking care of themselves and each other, especially heading into the holiday season, and we look forward to the continued growth here in South Norfolk."

---
Pictures and quotes courtesy of Jason J. Brown, public information coordinator with the City of Chesapeake's Dept. of Public Works.
---